Crouton's Taco Salad
February 24, 2011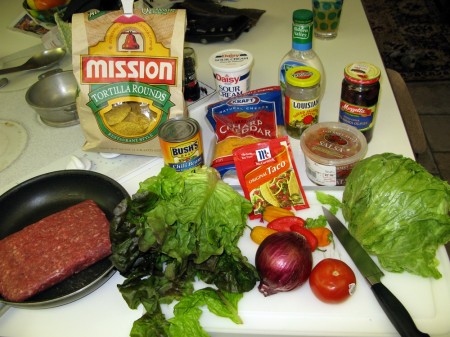 Taco salad is pretty generic, and ingredients vary depending on taste and what's on hand.  It's a great one-dish meal, and easy to make.  Here's how I do it:
Ingredients
1 lb ground beef
1 pkg taco seasoning
1 can chili beans
iceberg lettuce, shredded
red leaf lettuce, shredded
red onion or scallions, chopped
1 avocado, chopped
salad peppers, sliced
black olives, whole or sliced, regular or kalamata
tomato, sliced or chopped
garnish & toppings: chopped jalapenos, shredded cheddar cheese, salsa, sour cream, ranch dressing, tortilla chips
Directions
Brown & crumble ground beef, add taco seasoning with 3/4 cup water, mix & simmer.  Head chili beans.  Shred lettuce, toss with other salad ingredients.
Serving
Top salad with beans and seasoned ground beef, then top with garnishes.
© 2011, Crouton deMenthe. All rights reserved.
---
About Crouton deMenthe
Amateur cook and barbecue fanatic.
---

Amateur cook and barbecue fanatic.