I've wanted to ride BMW's new six-cylinder flagship touring bike ever since it came out. Last weekend I had my chance: two days and over 500 miles on a 2011 K 1600 GTL.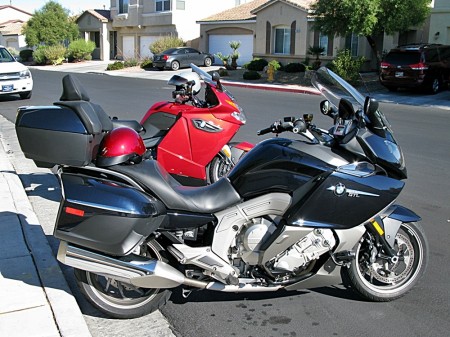 I'd driven up to Las Vegas to spend Thanksgiving with my son Gregory in Las Vegas.  Greg, as he has done before, made arrangements with the local BMW dealer, and Saturday morning we picked up two new 2011 models, a K 1600 GTL and a K 1300 S.  The dealer didn't want them back until Sunday afternoon, so we shook on it and took off, grinning like maniacs.
We spent most of the day Saturday in the saddle, riding through southern Nevada and northwestern Arizona: Las Vegas to Laughlin to Kingman, down Route 66 to the mining town of Oatman, Arizona, then back via the new bridge over Hoover Dam, 394 miles in all.  Sunday we rode another 100 miles in the mountains west of Las Vegas, up to Mountain Springs and back into the valley via Blue Diamond and Red Rock.  During the weekend we rode freeways, highways, and byways, experiencing everything from straight-ahead multi-lane slabs to sweeping hilly two-lane curves to narrow mountain switchbacks.  At one point we had to literally dodge wild burros.
What I'm saying is that it was a pretty good workout, both for us and the bikes.  Here are my impressions of the BMW K 1600 GTL.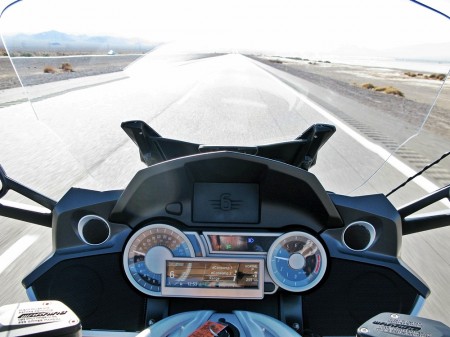 By way of background, I'm a touring rider.  I own a Honda Gold Wing, and in the past have owned an earlier model of the Wing and also a Harley-Davidson Electra Glide.  I'm used to sitting up straight on a motorcycle, with my feet under my knees (Honda) or even slightly ahead (Harley).  On a previous visit to Las Vegas I had the opportunity to ride BMW's dual-sport bike, the R 1200 GS, quite liking it and even lusting after one … but I must note that like the Wing and Electra Glide, the GS also has an upright seating position.
The K 1600 GTL is something between a pure sport bike and a tourer.  It's big and comfortable and fast, with a full suite of electronic gizmos (more on those in a minute) and at least as much saddlebag and trunk space as a Wing or Electra Glide … but you don't sit upright.  Of course it's relative: a Hayabusa or GSXR rider would characterize the K 1600's riding position as stodgy and upright, but if you come from the Electra Glide or Wing side of the tracks you'll find the riding posture quite a bit sportier … which is to say you lean forward a bit more, and when your feet are on the pegs they're high and tucked back.
Riding with your feet high and tucked back is the right riding position for a sportier bike, but with my stiff old knees it was the one thing I didn't like about the K 1600 GTL.  I was fine for the first 200 miles, but by the time we started heading back from Oatman to Las Vegas on Saturday, my knees were aching and I wanted nothing more than to stretch my legs forward and put my feet on a set of highway pegs … of which there were none.  On the long ride home, I found myself taking my feet off the pegs and stretching my legs out sideways and to the front, anything to take pressure off my knees.  If I buy one of these bikes I'll have to buy a set of highway pegs first thing … and that will both spoil its looks and reduce its cornering (i.e., leaning) capability.
The leaning-slightly-forward riding position, surprisingly, was quite comfortable.  Sitting totally upright, as on a Wing or Electra Glide, you quickly start to wish for some back support, and most of us who ride them buy aftermarket backrests.  You don't need a backrest with the BMW … at least I didn't, not once in almost 500 miles of hard riding.  In fact if the bike had come with a backrest it would just have been in the way.
Mechanically the BMW is a marvel, with all the features you'd expect on a big touring machine and then some.  As a Goldwing rider, I felt right at home with the cruise control, heated handgrips and seats, audio system, and selectable electronic displays.  I particularly liked the electrically-controlled windscreen, which retracts when the ignition is turned off but returns to the last selected position when you start riding again … a feature Goldwing riders have been asking for for years now.  Another BMW feature is a height-adjustable seat (I had mine all the way up).
The menus and buttons seem complex at first, but they're Maclike and intuitive … within 10 minutes of pulling out from the dealer's lot in Las Vegas I'd figured everything out, including the isometric selector on the left handgrip.  There are three electrically-activated, rider-selectable traction modes to deliver different levels of torque to the rear wheel; three suspension modes for different riding conditions.  One very nice feature is an electronic throttle … no cable!  That one takes a bit of getting used to, with the engine revving instantly every time you so much as think about twisting the throttle, but again, after a few miles it becomes natural.
The inline six is smooth at all speeds.  I'd heard it described as silky, and that's a very apt adjective.  At a steady speed, you really do feel like you're sliding over silk.  And when you twist that electronic throttle, it feels like you're ripping silk.  The six-speed transmission (another thing the Wing could use), once you get the feel of it, shifts smoothly and positively.  The brakes are awesome, as is the handling … the BMW is considerably lighter and more powerful than the Wing, and I felt I could ride it far more aggressively than I would ever ride the Wing (not that I ever would, Donna, just in case you're reading this).
Update (12/1/11): Forgot to mention the strong engine braking effect that comes with this tight, high-compression six.  Rolling off the throttle is like popping the speedbrake on a jet fighter … you slow down, right now.  It's a bit awkward when you're rolling along in second gear in a crowded parking lot, right at the neutral point on the throttle.  Finding that neutral point is tricky at first; finding a way to roll off the power smoothly is equally tricky.  But once again, while this is something I noticed at first, I'd forgotten all about it after an hour of riding.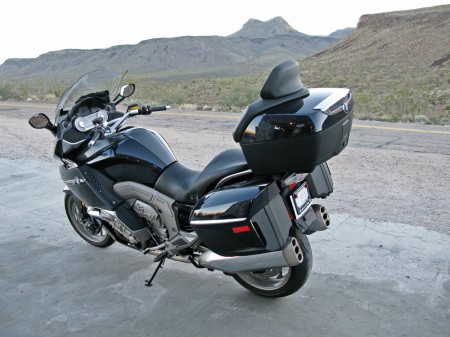 The dealer put both our names on each bike's rental paperwork so that we could swap rides.  I offered to ride Greg's K 1300 S so that he could get some time on the K 1600 GTL, but he said no, he'd stay on the four-cylinder bike.  I was secretly glad he said so … I rode a K 1300 last year and felt a little cramped (I'm a big guy).
I love the six-cylinder BMW, save for that one problem, the high and tucked-back footpegs.  I couldn't tour on this motorcycle without either visiting the Fountain of Youth or figuring out a way to mount highway pegs.  The second choice is doable, and after a few moments of surfing the BMW rider forums I saw some highway peg solutions, even a lowering kit for the stock footpegs.  So … I could modify the bike to suit me, at the expense of losing some of the bike's sportiness.
But there in my garage sits a good-as-new, paid-for Gold Wing, a machine that's every bit as good a long-distance tourer.  The only modification it needs, a backrest, it already has.  My Wing is comfortable and has almost all the features offered by the BMW.  Is it worth it to buy another $25,000 motorcycle just to get an electric windscreen and a sixth gear?
For now, no.  But don't take that to mean I don't want that BMW so bad I can taste it.  Not at all.  It's a brilliant machine.  And it's like sliding on silk sheets.
© 2011, Paul Woodford. All rights reserved.