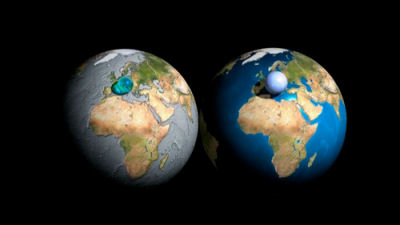 The small ball on the left represents all the water in the world (1.4087 billion cubic kilometres) including sea water, ice, lakes, rivers, ground water, clouds, etc.
The slightly larger ball on the right represents all the air in the atmosphere (5140 trillion tons).
The climate change deniers' main argument is that mankind's footprint is just too insignificant, compared with the size of the world, to make an impact on the environment large enough to actually change anything.  Seen this way, though, the idea isn't so farfetched.
Credit where credit's due: JWZ, via Apostropher.
© 2008, Paul Woodford. All rights reserved.