You Can't Read That! is a periodic post featuring banned book reviews and news roundups.




YCRT! News

In the last YCRT! I mentioned a Canadian comedian who is being investigated by a Quebec human rights commission over a joke. Well, get a load of this: a German comedian is being prosecuted for mocking Turkish President Erdogan. And no, not in Turkey, but in Germany. His prosecution was authorized by no less a figure than German Chancellor Angela Merkel.

In Battle Creek, Michigan, a substitute teacher was terminated for uttering the word "vagina."

Good news from Northville, Michigan, where parents had challenged the use of Toni Morrison's novel The Bluest Eye in a 12th grade AP English class. The school district, after review, is keeping the novel in the AP curriculum.

Contrast this with the actions of the school district in Henning, Minnesota, where after a single parental complaint about the graphic novel This One Summer, the book was summarily removed from the school library. The difference? The Michigan school district has a formal policy to follow when books and study materials are challenged. The Minnesota district doesn't.

In Rainier, Oregon, copies of It's Perfectly Normal, a children's book being used in a 6th grade sex education class, were inadvertently left on a table in the school library where they were seen by 4th grade students. Parents are now challenging it and other books used in the sex ed curriculum.

From the excellent Banned Books Awareness and Reading for Knowledge blog, an essay on the first book to be banned in America, Thomas Morton's New English Canaan, published in 1637.

The American Library Association has released its list of the top ten most frequently challenged books of 2015. Topping the list is John Green's young adult novel Looking for Alaska, frequently mentioned in previous YCRT! posts.

Looking for Alaska has lately been under siege in Marion County, Kentucky, where a parent described it as "filth" in a formal complaint, saying assigning it to high school students would encourage them "to experiment with pornography, sex, drugs, alcohol and profanity." Local book banners didn't just want Looking for Alaska removed from the high school curriculum and library, they wanted the 12th grade teacher who assigned it fired. After a contentious school board meeting, at which teachers, librarians, and outside anti-censorship groups testified in favor of the novel, the board elected to keep Looking for Alaska in the curriculum.

In honor of this small but important victory, I'll conclude this YCRT! post with my previously-published review of Looking for Alaska, along with a recently-released video recorded by the author, John Green.

YCRT! Banned Book Review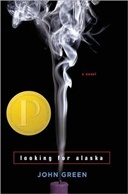 Looking for Alaska
by John Green

From a previous YCRT! post:

"'How can I raise my child in a Christian home when he is required to read about this?' That's what a parent said about John Green's young adult novel Looking for Alaska. The local paper described it as a book about 'kids gone wild with porn, sex, drugs, alcohol, and death at a boarding school.' Sadly, the school board took the book off the required reading list for AP English."

Looking for Alaska is a coming-of-age story, one of the best YA novels I've read in a long time. Published in 2005, it won multiple awards for fiction and youth fiction, including the Los Angeles Times Book Prize and the Printz Award. It's on advanced placement English reading lists in high schools all over the country, and is exactly the kind of book intelligent teenagers want to read. Not only that, it's the kind of book intelligent teenagers will recommend to their friends. It's about them, after all. It captures perfectly the intensity of their inner lives, their allegiance to friends, their curiosity about the world, their first adventures into adult pleasures and vices … including, of course, sex.

The story is narrated by Miles, aka Pudge, a loner who transfers to a private Alabama boarding school. For the first time in his life he finds himself among like-minded kids, bonding with a small group of male and female students who share his love of reading and curiosity about life. He begins to share in their more adventuresome activities, including smoking, drinking, sneaking out at night, and pulling memorable pranks.

John Green gave Looking for Alaska an interesting structure. The climax of the book—the kids' devastating introduction to the starkest adult experience of all, the death of a beloved friend—happens in the middle. Miles' narrative, which reads like a diary, counts down to the climax with chapter titles like "One Hundred Days Before," then climbs up from there with later chapters like "Fifty Days After."

Looking for Alaska is beautifully written. Even as a 65-year-old reader I felt the tug of wonder and anticipation I once felt as a teenager—and I too fell in love with Alaska. That's good writing.

So what's the deal with parents wanting this book banned? Referring back to the newspaper article I linked to above, that particular school district notifies parents ahead of time what books students will read in advanced placement English classes. Books with mature themes are supposed to be asterisked so that parents can notify teachers if they want their children to read other books instead. In this case, Looking for Alaska was not asterisked, and parents did not know ahead of time their kids would be reading a book that mentions blow jobs.

Okay, I can see that. I read the book, and there is indeed a short passage about a blow job. If I had a 12- or 13-year-old, I'd probably squirm if I knew he or she was reading this book. Older kids, though, like the high school students in question? No problem, at least with me. There's nothing erotic or pornographic about that brief passage, and oh by the way do you remember what your and your friends obsessed about back in high school? I'm willing to bet cigarettes, booze, and sex—especially sex—were as high on your list as they were on mine.

But it's not just one school district, or one group of outraged parents. Looking for Alaska has been challenged again and again, all around the country, whether or not parents had the option to choose other books. Conservative book-banning sites like SafeLibraries.org do their best to whip up religious groups and concerned parents, misleadingly conflating the mere mention of sex with pornography, then taking the lie one step further by claiming that pornography is being forced upon innocent 12-year-olds by subversive teachers.

I'm going to insert here part of another reader's review of Looking for Alaska, a school librarian with direct experience of one of many attempts to ban the book.
The media specialist that I worked with purchased this book for the middle school library. The library lady (at-the-time) was fanning through the book, when the words "blow-job" jumped off the page and slapped her in the face! From there it just spiraled out-of-control and the book was scanned for every "f" word and sexual act that could be found. Needless to say a big book cleaning (banning) took place and a group of closed-minded people were able to remove 60 books from the library. All of these left the shelf without going through any proper consideration. I have the list of books. I've been reading them a few at a time. I've been slowly adding some of them back to the library, but this time they are flagged in the system. A permission slip with information about the book is printed out and signed before a student can check out any "objectionable" book. I have no respect for the media specialist, (he no longer works for the school … yippee). He never fought for any of the books but even more important, he had no idea what he was ordering. I would NOT put this book in the middle school, but it did not stop me from allowing my 13 year-old son to read this before me.
Here is John Green himself, discussing Looking for Alaska and some of the many attempts to ban it:


© 2016, Paul Woodford. All rights reserved.