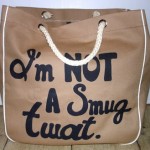 We volunteered again (as we did last year) to man a sag stop for a bicycle race, Sunday's Tumacacori Century. Does "sag" stand for anything? I don't know. We'll be setting up tables under a big shady tree near the intersection of I-19 and the Arivaca Road, then handing out water, Gatorade, fruit, granola bars, and PB&J sandwiches to riders coming through. Presumably some of them will be sagging by the time they get to our stop. Last year it was like a party; I'm looking forward to it.
Last night GABA, the Greater Arizona Bicycling Association, held an organizing meeting for race volunteers near the University of Arizona. Since we were in the middle of town Donna and I decided to stop at a restaurant afterward, a place called Native New Yorker that opened last week in the building that used to house Tucson's most popular Chuy's (there were about ten Chuy's restaurants in town but the owners got in trouble and now only one remains open). Native New Yorker is a chain but it's new to us and to Tucson, so we were willing to give it a try.
Every time this town gets a new restaurant the locals come to check it out, and this place was no exception: it was crammed full of people and the staff seemed harried and disorganized. The hostess led us to a booth that hadn't been cleaned yet, then led us to another dirty booth, then a third, before finally finding us a clean one way back in a corner. She was trying to apologize for the confusion but we couldn't hear a word she was saying over the noise: it's a sports pub, so there were TVs everywhere, all blaring, a the acoustics were such that you could hear everyone speaking, especially the frat boys taking part in a chicken wing eating contest at the bar, cheering each other on. My god, I've never been in a louder place. The flight line at Kadena Air Base, with eight F-15s idling on the ramp and another four doing afterburner takeoffs on the runway, was quieter than Native New Yorker.  When our waiter came I told him I hoped the guys eating chicken wings would choke and die pretty soon, and he high-fived me.
The food was a disappointment, too: lower end sports pub grub, same as every other sports pub in town. My calzone was basically an enlarged ham & cheese Hot Pocket. As Donna and I drove home, we both vowed not to darken Native New Yorker's door again. We could have stopped somewhere else and gotten takeout to eat at home. Blessed, quiet, peaceful home. Can you tell we're turning into hermits?
On to politics. I was pleased to see President Obama back on his game Tuesday night, more than holding his own against Romney, not that I really think debates this late in the game will make much difference. Still, the more Romney goes out of his way to make himself look small (as he did so extravagantly on Tuesday) the better, I suppose. And I was glad it was a town hall-style debate, because some of the questions—even though pre-approved by the candidates—were ones that wouldn't have been asked by the journalists who normally moderate these things. My favorites were the questions about the differences between Romney and Bush, immigration policy, equal wages for women, assault weapons and gun control, and outsourcing jobs.
Can it really be true Larry King is to moderate the next debate? Jesus H. Christ, do we really want to know what Obama and Romney think about Liza Minelli? Oh, well, better Larry King than Nancy Grace.
And away from politics, not a second too soon. I took more photos at the air museum yesterday after my WWII hangar tour was cut short (my Canadian visitors had to leave early, and there weren't any others left to take their place). I took advantage of the extra time to sneak back into the storage room where I took photos of the Japanese Kamikaze flying bomb last week, this time getting a couple of shots of the Nakajima Tsurugi (Sabre) suicide plane, the only one left in the world. The Japanese made these very late in the war, using the cheapest materials available and powering them with whatever spare or leftover engines they had laying around. Some had bomber or transport engines, some had high-powered Zero engines. Each individual aircraft was slightly different, but of course that was okay because they were meant to fly only once or twice before being used in suicide attacks. Click on the thumbnails to see the original photos on Flickr.

While I was at it, I took a few additional photos.
Speaking of the air museum, I sent in an article for their quarterly magazine: the
centrifuge story
I posted to this blog a while back. They sent me a proof yesterday, which I edited and corrected. When the magazine comes out, I'll post a link to it here. Now if I could just get one of the magazines I write for to actually pay me, I'd have something to feel smug about!
© 2012, Paul Woodford. All rights reserved.