I always thought I'd have a project bike some day.  In my daydreams, I'd see a Triumph or BSA 650 twin, perhaps a pre-1965 BMW with Earles forks, maybe even an old Sporty.  One thing I never pictured, though, was an Italian bike, and a relatively new one at that!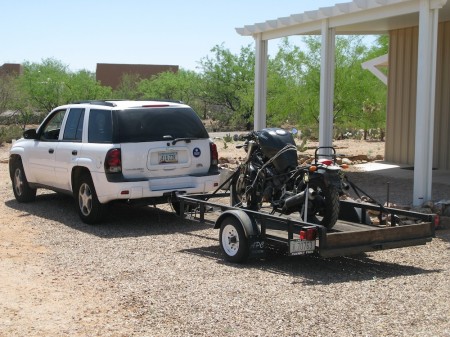 My long-awaited project bike turned out to be a 2000 Ducati Monster 750.  It belonged to friends, a couple who both rode Ducks.  This was her bike.  Her husband was working on it when he became too sick to continue.  After he died, the bike sat in their workshop, partially disassembled.  She recently decided it needed a new home and thought of me.  I picked it up this morning and now it's in my garage.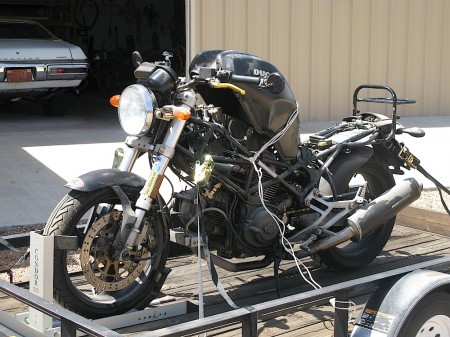 I have all the parts and pieces; now to figure out if I can put it back together myself … or whether I'll have to pay someone to do it.  Once it's running again I'll have to re-title, license, and register it.  My daughter Polly wants it for daily transportation (she doesn't have a car and can't really afford one on the money she makes at her current job), but she has no experience with motorcycles, and this one looks like it'll be a handful.  Oh, well, there's plenty of time to think about that … it won't be back on the road for weeks, maybe months.
When we do get it running again, it'll be a styling' machine … bella Italiana!  Wish me luck, fellow wrenchers, I'll need it.
© 2012, Paul Woodford. All rights reserved.