Some of my Facebook friends have been drinking the Koolaid: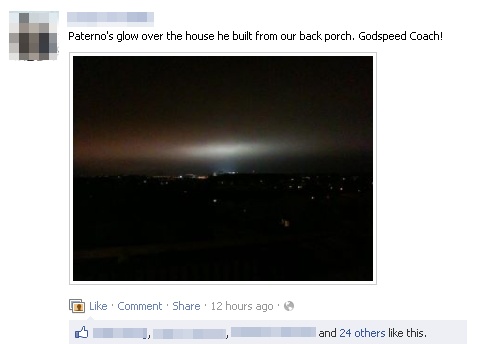 When it comes to Joe Paterno, I'm with Nancy Nall: whatever he may have achieved in life, when assistant coach McQueary came to him and told him what Jerry Sandusky was doing to a boy in the locker room, JoePa failed the test of character.
We never know when we're going to be tested, and none of us know beforehand how we'll fare.  As Ingrid Rowland says of the Costa Concordia disaster in The New York Review of Books,
It is hard to know who we might really turn out to be when the time comes: one of the passengers who snatched other people's life vests, stepped on little kids, and escaped early, or one of those who turned back to save one more person more helpless than they and never escaped at all, like the missing musician, age 25, who let a woman with a baby take his place on a lifeboat.
I hope Joe Paterno had the self-awareness to wish, as he lay dying, that he had done the right thing when it counted.  I hope, when I am tested, I don't take the easy way out.