Crouton's Chili Beans
August 31, 2008
You can serve these beans by themselves, or with chili con carne.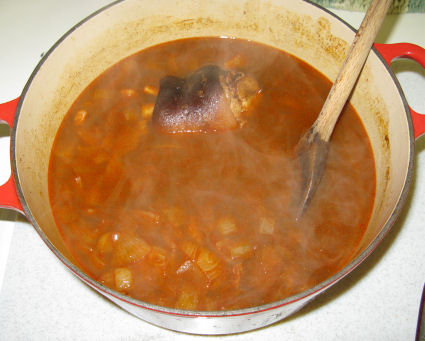 Crouton's Chili Beans
Servings: 4-6
Difficulty: easy
Ingredients
1 bag dried pinto beans
2 cloves garlic
1 yellow onion
1 smoked ham hock
2 cans vegetable or chicken stock
1-2 cups water
2-3 tbsp chili powder
a few peppercorns
red pepper flakes
Directions Preparation: soak the beans in water overnight. Drain and rinse before cooking. Place beans in heavy pot. Add chopped garlic and onion. Add ham hock. Cover with vegetable or chicken stock and 1 or two cups water. Add chili powder, peppercorns, and red pepper flakes (to taste). Bring to low boil, then reduce to simmer and cover pot. Cook 2-3 hours.

Amateur cook and barbecue fanatic.