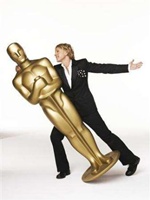 A rainy morning in Tucson, Arizona, rarer than a pro-union guest on a Sunday morning talk show.
This morning's schedule included a group motorcycle ride to Arivaca and Tubac, but no one wants to be wet and cold so the ride's been slipped to next Sunday.
This evening's schedule is, what else, the Oscars.  It's a family TV ritual, like the Super Bowl.  C'mon, you can't not watch.  Of the nominees, we've seen Winter's Bone, Inception, The Kids Are All Right, and The Social Network.  Everyone says The King's Speech is the one to beat for best picture, but my vote goes to Winter's Bone.  I mean, like, my god, Missouri.  Best actress is a tossup for me: Annette Benning in The Kids Are All Right and Jennifer Lawrence in Winter's Bone.  Best actor?  I haven't seen any standouts so far, so: no opinion.
By the way, though I review all the movies I watch, there's a backlog and not all of them have yet been posted here.  My review of Inception is up, though, and you can read it here.  I'll post the other reviews soon.
Oops, forgot this afternoon's schedule.  I'm making a pot of Donna's secret Italian family meat sauce, and at some point we're borrowing a friend's truck to take 6 folding trestle tables and 24 folding chairs back to the guy who loaned them to us (we needed them for a friend's house party last week).  Hmm … maybe I should have delayed my Sunday shower until after all the chair & table schlepping.  Oh, well, I can always take another one.
Did I mention the rain?  Apparently it snowed in parts of Tucson, and a friend sends proof.  Now this is rarer even than a royal wedding news segment that doesn't mention Fergie or show a clip of Princess Di.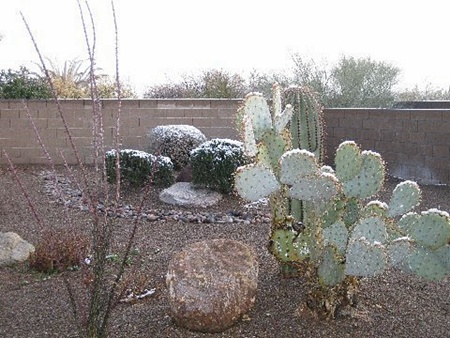 And there you have it, the great blizzard of 2011!  See you at the Oscars.
© 2011, Paul Woodford. All rights reserved.