You Can't Read That! is a periodic roundup of news about banned and challenged books.
Arizona:
In my last YCRT! column I mentioned the Tucson Unified School District book banner who now wants the books unbanned. At a meeting, the rest of the school board disagreed, and the book banning continues.  A local news outlet reported on the meeting, slanting their coverage to push the notion that no books were ever banned and that the whole issue is being sensationalized by dirty hippies and Mexicans activists.  A local blogger responded by posting a devastating takedown of the news outlet's history of misreporting the Tucson book bannings.
In summary: banned books still banned.
Elsewhere:
RIP Gore Vidal, whose novel The City and the Pillar was denounced for LGBT content.
There's an annoying ad at the beginning of the video, but what follows is a surprisingly in-depth local news segment on banned books and how area libraries and school boards respond to challenges.
Worth reading: The Political Agenda of the Morality Police.  My only objection?  The author doesn't connect the dots tying widespread incidents of book challenging to organized religious/right-wing activism.  Here are some items I've covered in previous YCRT! columns:
A good summary of book challenges and school board responses in Missouri, lately a hotbed of book banning activity.
Book banners ask "won't somebody think of the children?"  This writer says "I am thinking of the children!"
Retail censorship? What you can … and can't … read in your workplace break room.
I like this proposed error message for internet censorship (the reference, for those of you who don't get it—as I did not at first—is to the Monty Python film Life of Brian):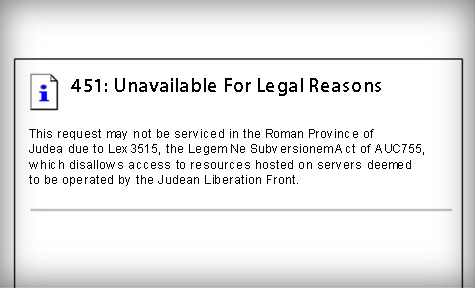 Speaking of which, here's an update on internet censorship around the world.  Oh, but it won't happen here, you say.  Are you sure about that?  Did you know NBC owns Twitter?  Now that you do, you might want to be careful what you tweet about NBC's crappy Olympics coverage!
© 2012, Paul Woodford. All rights reserved.