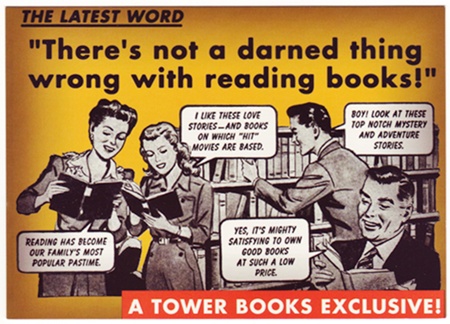 Oh, c'mon, they don't still burn books, do they?  Yes, they do.  By the way, I just downloaded this book — Lawrence Hill's The Book of Negroes — to my Nook and will be reviewing it soon.
On the Banned Wagon: students report on a historic book banning in their own school district.
Want to turn a teen boy into a bookworm?  Whisper the words "banned book" into his ear!
"How dark is contemporary fiction for teens? Darker than when you were a child, my dear: So dark that kidnapping and pederasty and incest and brutal beatings are now just part of the run of things in novels directed, broadly speaking, at children from the ages of 12 to 18." Opinion disguised as journalism at the Wall Street Journal: Darkness Too Visible.
Here's just one of many outraged responses to that Wall Street Journal hit job.
School board votes to force teachers to tell parents whenever books that have been previously banned or challenged are to be taught.  Oh, and get this: "In addition, all English teachers will provide an explanation on their course syllabuses for why a particular book was selected for their class."  Parental reaction to board vote?  "It's a good first step."  Chilling.
Another school board cave: after parents asked the local high school to remove Sherman Alexie's The Absolutely True Story of a Part-Time Indian from a freshman reading list, the board voted to keep sophomores, juniors, and seniors from reading it too.
Want to know more about this dangerous Sherman Alexie character?  Read his essay, Why the Best Kids Books Are Written in Blood.