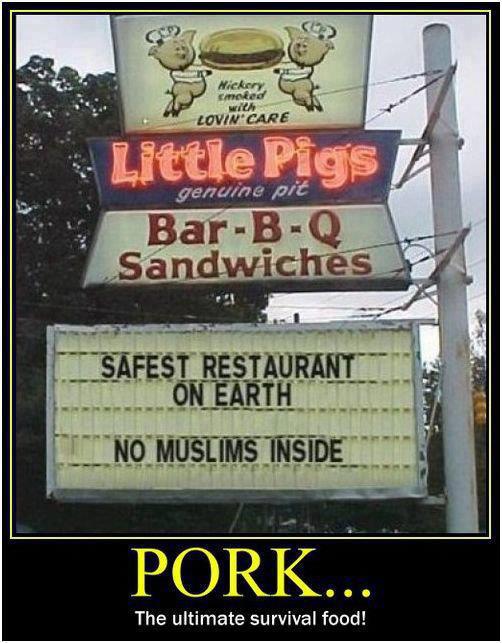 Over time I've culled most of the outright racists from my pool of Facebook friends. Sometimes, though, people post shit like this, intending only to share something they thought funny, failing to see the thuggishness and racism behind the "humor."
If the message on the sign had been anti-Semitic, my friend never would have posted it — he would have known better. But we see crude anti-Muslim jokes on Facebook all the time (and this one is a mild example).  How is it that we understand religious and racial prejudice is wrong when it comes to Jews and African-Americans, but don't get it that this is the same thing?  Are we only capable of learning to get along with each other one religion or race at a time?
I made a snarky comment, to be sure: "Ha ha!  The only thing that could possibly be funnier and more welcoming would be to change the sign to 'Whites only!'"
Some woman I don't know — a friend of the original poster — came back with this: "@Paul Woodford — bad attitude, dude."
What can you say to something like that?  Here's what I said: "Oh?  What if the sign said 'no Jews inside'?  Would it still be funny?  I dare say if you were an American Muslim, you'd have a bad attitude too!"
Her response to that?  "Hope your (sic) having a good day dude … just thought FB was a happy place …"
Right, dudette.  Just leave the thugs and racists alone, and the world will be a happier place.  Sure, that'll work.
By the way, what is it with restaurant signs depicting critters serving up their own kind?  Apparently I'm not the only one who is creeped out by restaurant animal mascots that offer themselves up to be eaten!
© 2012, Paul Woodford. All rights reserved.