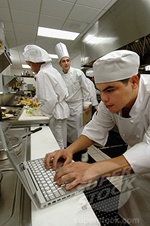 First of all, there's no need to become a registered member of Crouton's Kitchen if all you want to do is read the blog or try out the recipes.
Registration is only required if you want to leave comments on recipes and blog entries.
How to register?  Simply fill out the form below, tell us who you are and what you want your user name to be, and click "send." We'll respond by email, confirming your user name and giving you a temporary password. Once you log in with your user name and temporary password, you can then change the password to protect your privacy.
Crouton's Kitchen used to have an open registration policy, but too many spambots signed up and we had to switch to closed registration. We know it's a pain, but it's better than comment spam.
Please sign up as a registered user of Crouton's Kitchen today!
Note: some readers have complained that the "Send" button doesn't seem to work.  Despite appearances, it does work, and we get your submissions.  Crouton acknowledges them all, and you'll hear from him soon. – Ditalini de Menthe